Haut de Cagnes
Getting around Haut de Cagnes village is a picturesque stroll, the town below with all its amenities is a 5 minute walk, the train station a 10 minute walk and the closest beaches only 20 minutes on foot.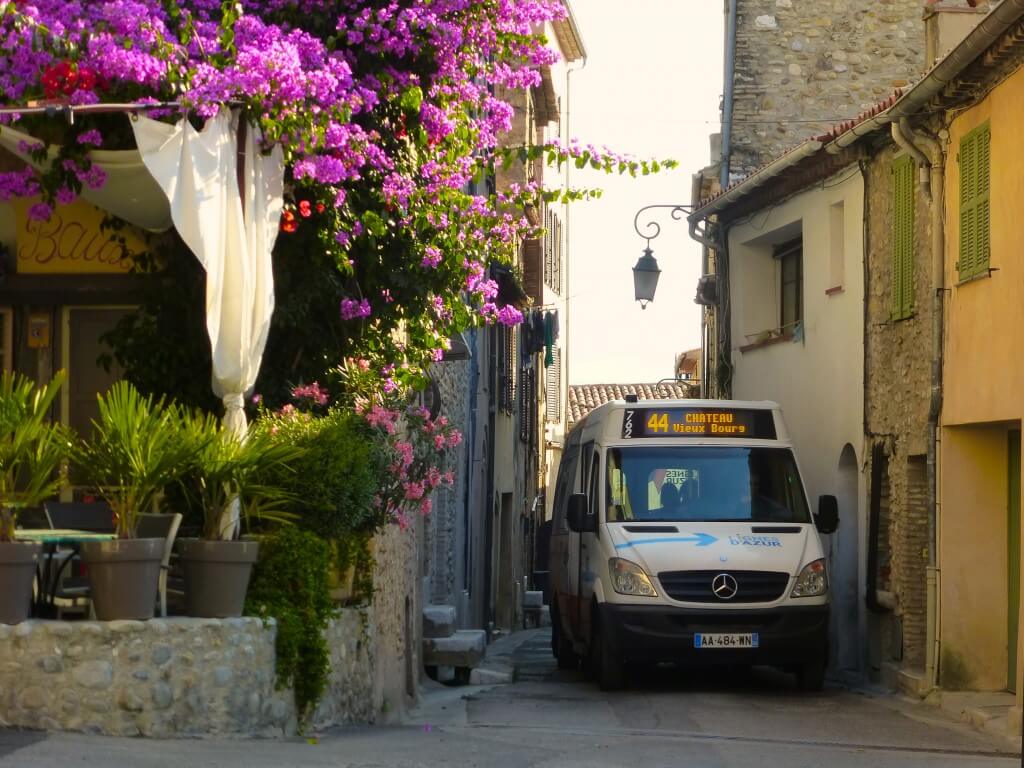 The No 44 free shuttle bus runs up to the village every 15/20 mins from the town centre at Square Bourdet (central bus station). The perfect way for getting around Haut de Cagnes when it's hot or if you have luggage or shopping bags!
It travels right up to the Château with a few strategic stops on the way. Taking this bus down the steep, narrow and winding streets of Haut de Cagnes is a constant source of amusement and not for the faint hearted!
During the summer, the No 44 starts running from around 7h till 0h20, Cagnes also extends its services with another free shuttle bus (Navette de la Plage) – No 45, which runs from Square Bourdet town centre down to the beach between 10h and 20h every 30 minutes 7 days a week – perfect if you don't feel like the walk! The No 45 will take you passed the Hippodrome and along the sea front to Cros de Cagnes, dropping you off near the private and public beaches, restaurants and cafes.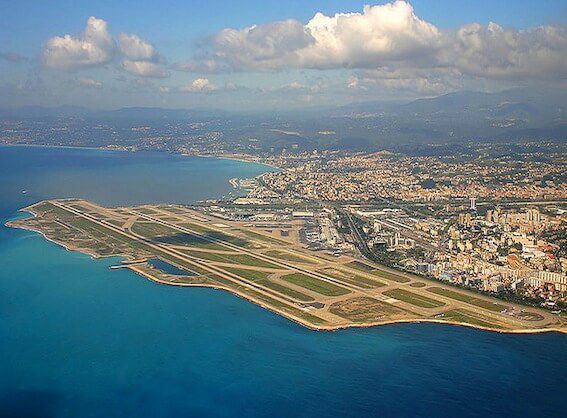 A selection of buses will take you from Nice Côte d'Azur International Airport to Cagnes sur Mer. The journey takes around 20 minutes depending on the traffic and can leave you at Square Bourdet, where you can take the No 44 free shuttle bus up to Haut de Cagnes.
From Cagnes the buses 500, 400, 200 and 9 run along the Promenade des Anglais just in front of Terminal 1, they usually stop at Airport/Promenade then continue to Parc Phoenix, except for the 200, which will take you directly to Parc Phoenix, where you can take the Tramway 2 to both Terminal 1 and Terminal 2.
The bus stop Airport/Promenade is a 5 minute walk from T1, or you can pick up the Tramway 2 at T1 or T2 and go to Parc Phoenix and take the take buses 500, 400, 200 or 9 to Square Bourdet at Cagnes sur Mer from there . The tramway runs every 8 minutes.  Bus journeys (including the short tram journey) cost €1,50, you can pay on the bus or at the machine at the tram stop – it is advisable to have change and you must stamp your ticket when entering the bus or tram.
The train station Nice Saint Augustin, is close to the tramway stop Grand Arenas, if you prefer to take the train to Cagnes sur Mer, however the bus is easier. You can also take a taxi, but it's wise to check the price before you start the journey and confirm that the driver will take you right into the village and not just the town below.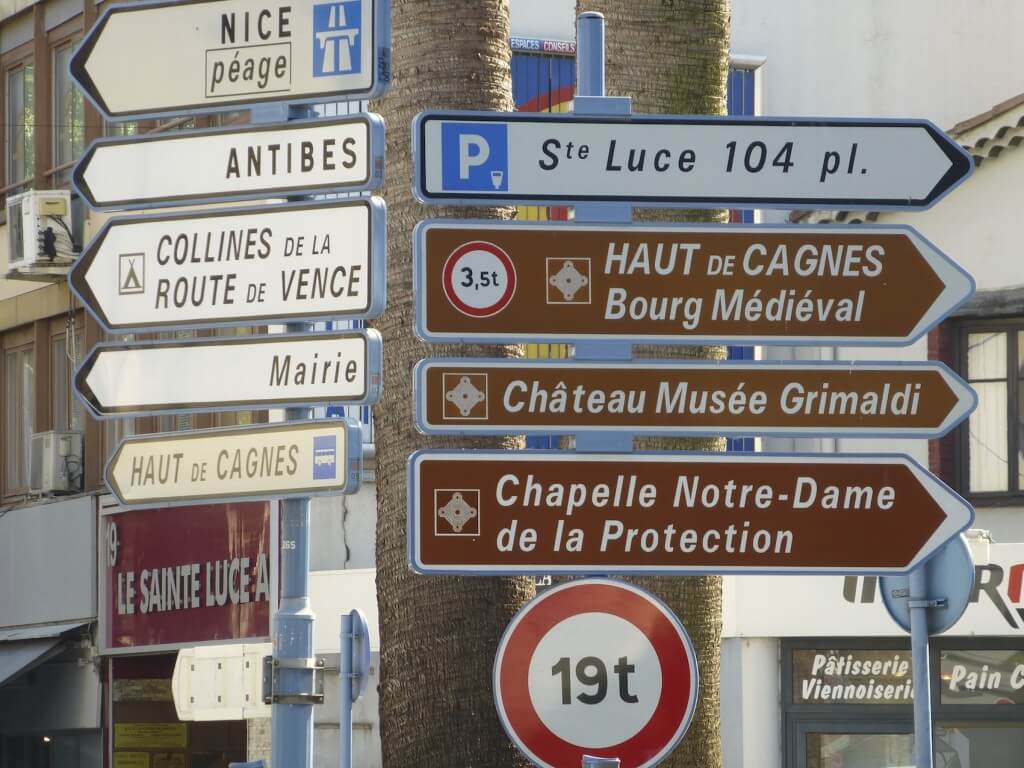 You  have many taxi options but take care you aren't over charged. If you don't want to take the risk with unpredictable taxi drivers and unpredictable prices, guests have had positive experiences with the English speaking private taxi service Friend in France (+33 (0)699162233), who will collect you from airport arrivals and drop you off at your holiday home.
You must book in advance and their approx. rates are :Haut de Cagnes to/from Nice International Airport – up to 3 pax: around 40€, up to 8 pax: 50€. 
*An extra 20% is added for collections and drop offs between 8pm and 8am and Sundays. 
They also set up a selection of interesting tours and day trips on the Cote d'Azur and can be booked when organizing your holiday rental with owners or their representatives.
UBER also works well – apparently offering a cheap and reliable service.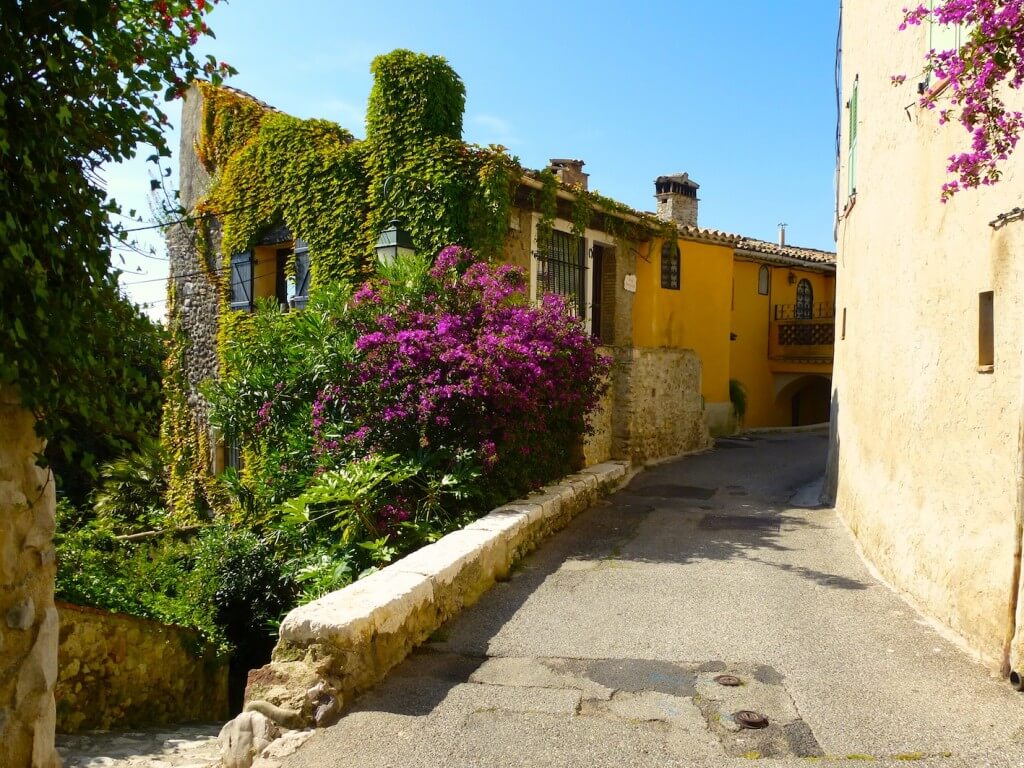 If travelling on the A8 motorway from the direction of Aix en Provence to Cagnes sur Mer take Exit 47 or Exit 48 if coming from the direction of Italy. Follow the signs to 'Centre Ville – Cagnes sur Mer' and then the brown signs indicating 'Haut de Cagnes – Bourg Medieval' – once you enter the village follow the direction 'Château – Eglise'  right up to the Castle. This is the best signed-posted route for a first visit.
Haut de Cagnes is one of the few medieval villages which allows cars access on the Côte d'Azur, but this is a medieval village and streets are narrow. Stick to the main route by following the signs up to the Château, this is the shuttle bus route so all cars can pass. TURN OFF your Sat Nav in the village you risk finding yourself on a very narrow side street and could damage your car.
You may not be able to park directly outside the property you are renting, be prepared to drop off your bags at the closest point. It will only take you 5 minutes to re-circle back around into the village by car if you need to get your bearings.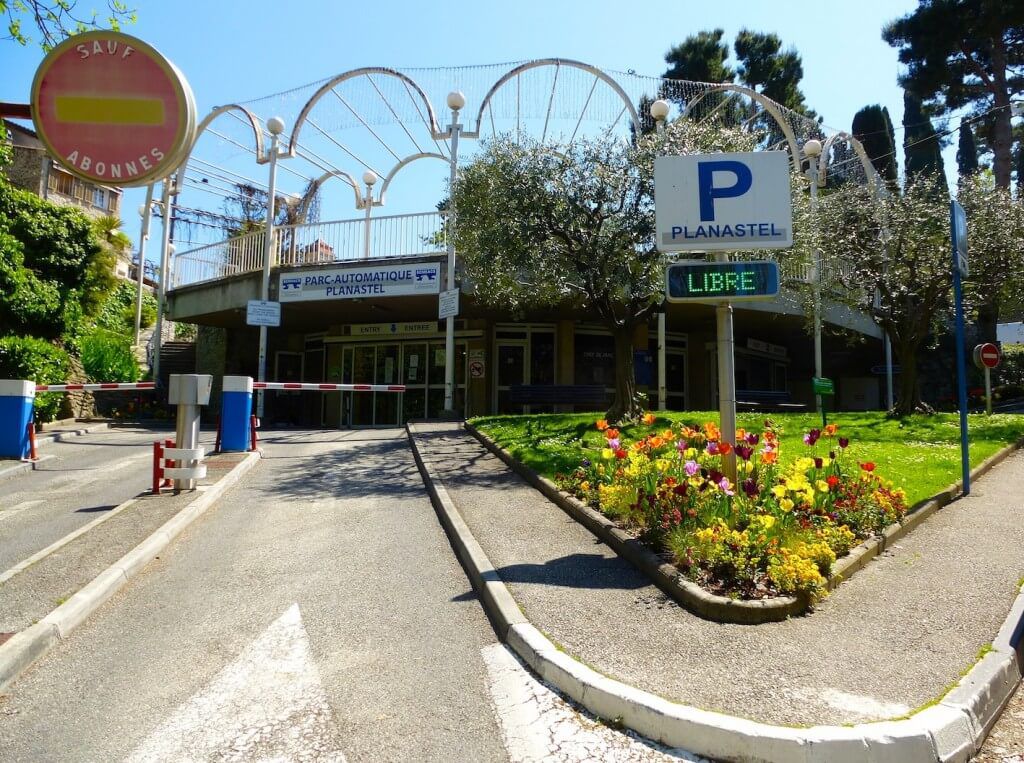 There are free public parking spaces throughout Haut de Cagnes, but they can be hard to come by in high season. They are concentrated in area where you enter the village up to the Château or in the town below, we are happy to provide you with a maps to help you locate these areas. Be patient and you will always find something – usually a short but pleasant stroll from where you are staying and remember that you can drive through the village so will be able to drop off bags, children, etc.  close to your holiday rental.
When entering the village you will see a modern structure on your left – this is the Planastel, the world's first automatic car park. Overnight rates are around €10 from 7pm to 9am the next day. They also offer hourly (1€50), 24 hour (28€), weekly (€49), two-weekly (€81) and monthly (€117) rates for visitors. Low sports cars, heavy cars and 4x4s are not accepted (accepted dimensions – 1m68 x 5m40 and 1650kg).
There are also 2 open car parks in the town below, which only cost 0.80€ per hour 9h-18h (free at lunch time and overnight) –  plus you can jump on the free shuttle bus back up to the village if you don't feel like walking.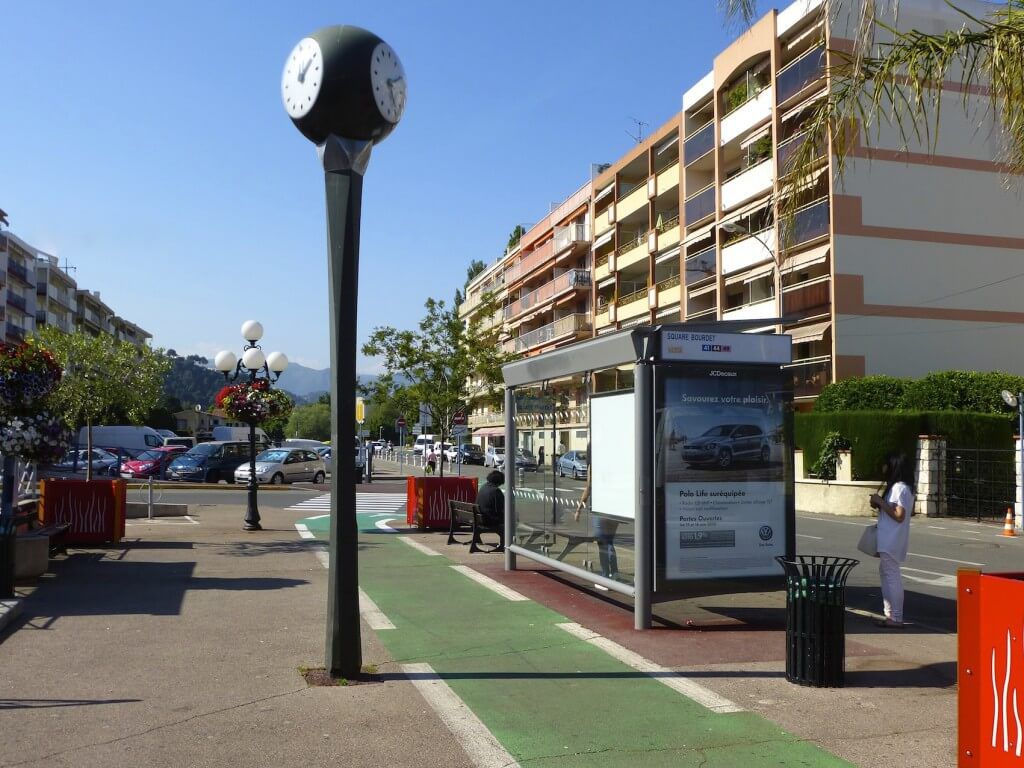 Cagnes sur Mer is well serviced with public transport to and from all major destinations on the coast and to certain inland villages.
Bus journeys cost €1.50 – bring change, tickets can be purchased on board and need to be validated in the machine by the driver. Most of the bus routes through Cagnes are served by Lignes d'Azur and their site also gives you English, German and Italian language options. They have a free application for your smartphone with the latest information and timetables – see Lignes d'Azur.
Buses passing through Cagnes sur Mer are:
9: Vence to Nice – visit Vence's medieval city, cafes and boutiques and don't forget the Chapelle du Rosaire, famous for it's Matisse paintings.
200: Cannes to Nice – stopping off in most of the towns along the way including Antibes, Juan les Pins and Golf Juan.
400: Vence to Nice – but also stopping in St Paul de Vence and La Colle sur Loup – the perfect day out with all its art galleries, winding streets, inviting shops and restaurants.
500: Grasse to Nice – ideal for visiting the perfume capital of the Cote d'Azur.
*All buses going into Nice will leave you at Grand Arenas/Parc Phoenix just after the Airport – here you jump on the tram into Nice – your ticket will cover the tram journey as well.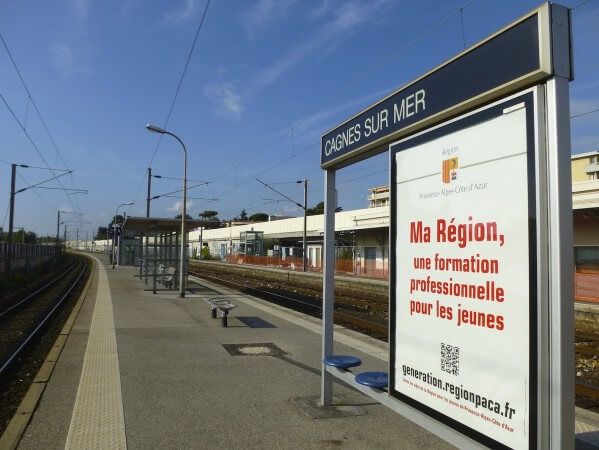 There is a convenient train station beside the town centre of Cagnes sur Mer and a 10 minute walk from the medieval village. Tickets must be purchased before your journey from the ticket office, automated machine or online – you must also validate them in the yellow machine before accessing the platform (at Cagnes station at least).
For train information or to purchase tickets check out the SNCF website. To get from the train station to the village, take buses 42, 400, 200 or 500 to Square Bourdet (5 minutes journey) and then the No 44 free navette up to Haut de Cagnes.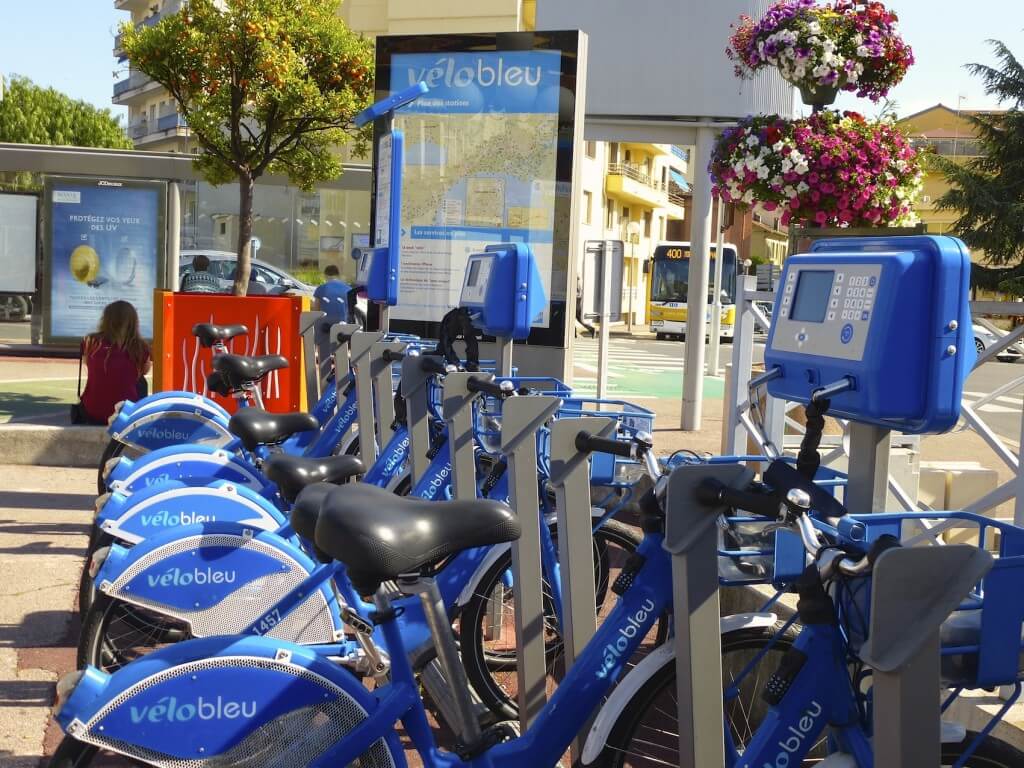 If you wish to rent out a bike, Velo Bleu bikes are very handy and can be picked up beside the Hotel de Ville at the bottom of the village's main street or in the town centre.
You will need to register on Vélo Bleu in advance, as well as give your credit card details. The site is only in French, but once registered you can pick up and leave off a bike whenever you like.
Renting and Electric Cars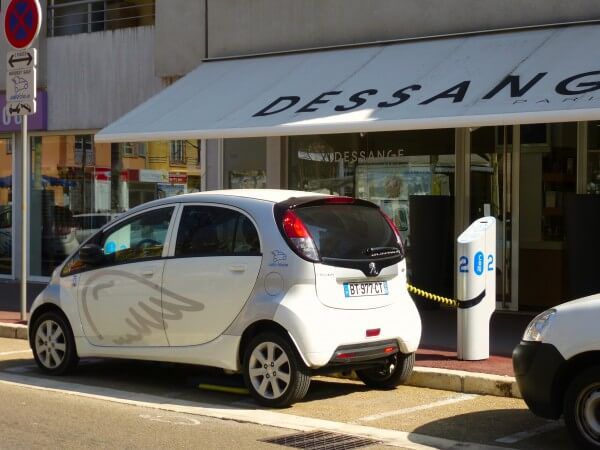 If renting a car, it is a good idea to find your bearings in the village before collecting your car. For electric cars, Auto Bleue offers you the possibility to rent a Peugeot iOn (4 passengers) – 7 days a week, 24 hours a day. Register online or in person around €26, then make your reservation by phone or through their website and collect your car from the Auto Bleue station at the arranged time.
You must return your car to the same station you collect it from, guaranteeing you a parking place – a big plus during the summer months. For details and prices – see Auto Bleue (www.auto-bleue.org) – their user-friendly site is in English, French, Italian and Russian and their cars are 100% electric so help towards the protect of the environment, as well as promoting the concept of car sharing.