Haut de Cagnes commerce offers around a dozen restaurants, a newsagents (tabac), galleries, a local pottery shop and 2 estate agencies tucked in around its tiny streets. You will also find artisan workshops, where jewellery, paintings, sculpture and woodwork are created. Everything else you need, is a 5 minute walk away in the town below.
There are a remarkably large number of restaurants for such a small village – they vary in price, style and quality. You can eat simple homemade food in a relaxed, casual atmosphere or opt for more formal, creative dining.  Most restaurants will not accept you after 1.45pm for lunch or 9.30pm for dinner.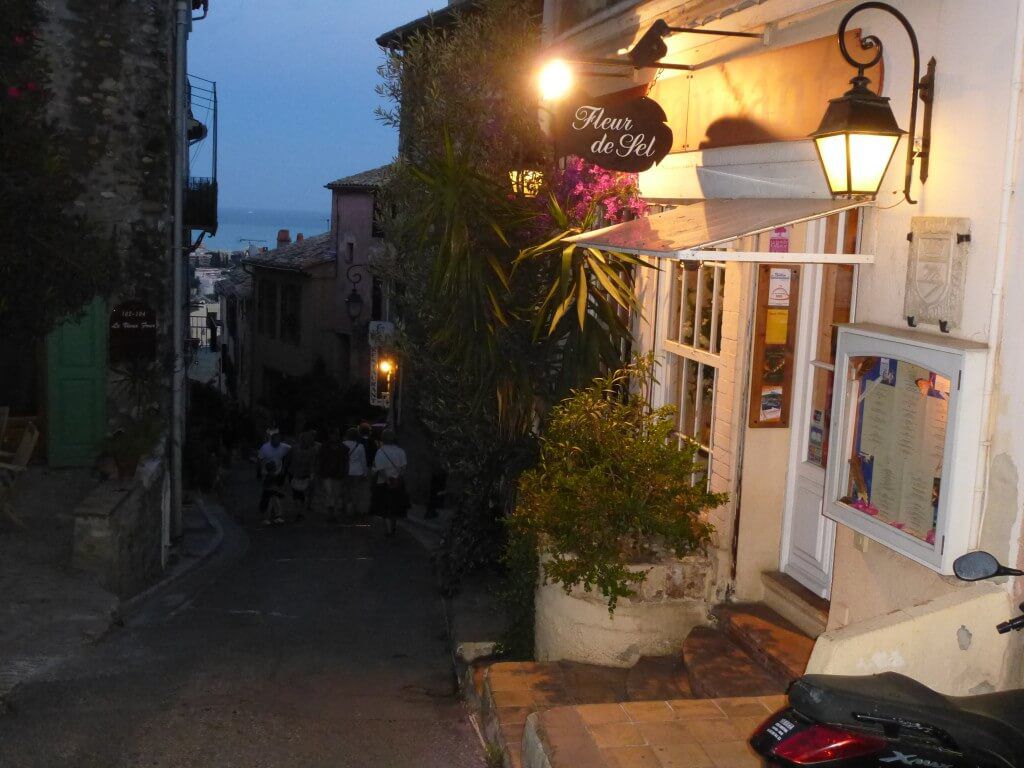 Located near the top of the village main street, husband and wife team provide authentic French cuisine from local produce, good wine list.
85 montee de la Bourgade
04 93 20 33 33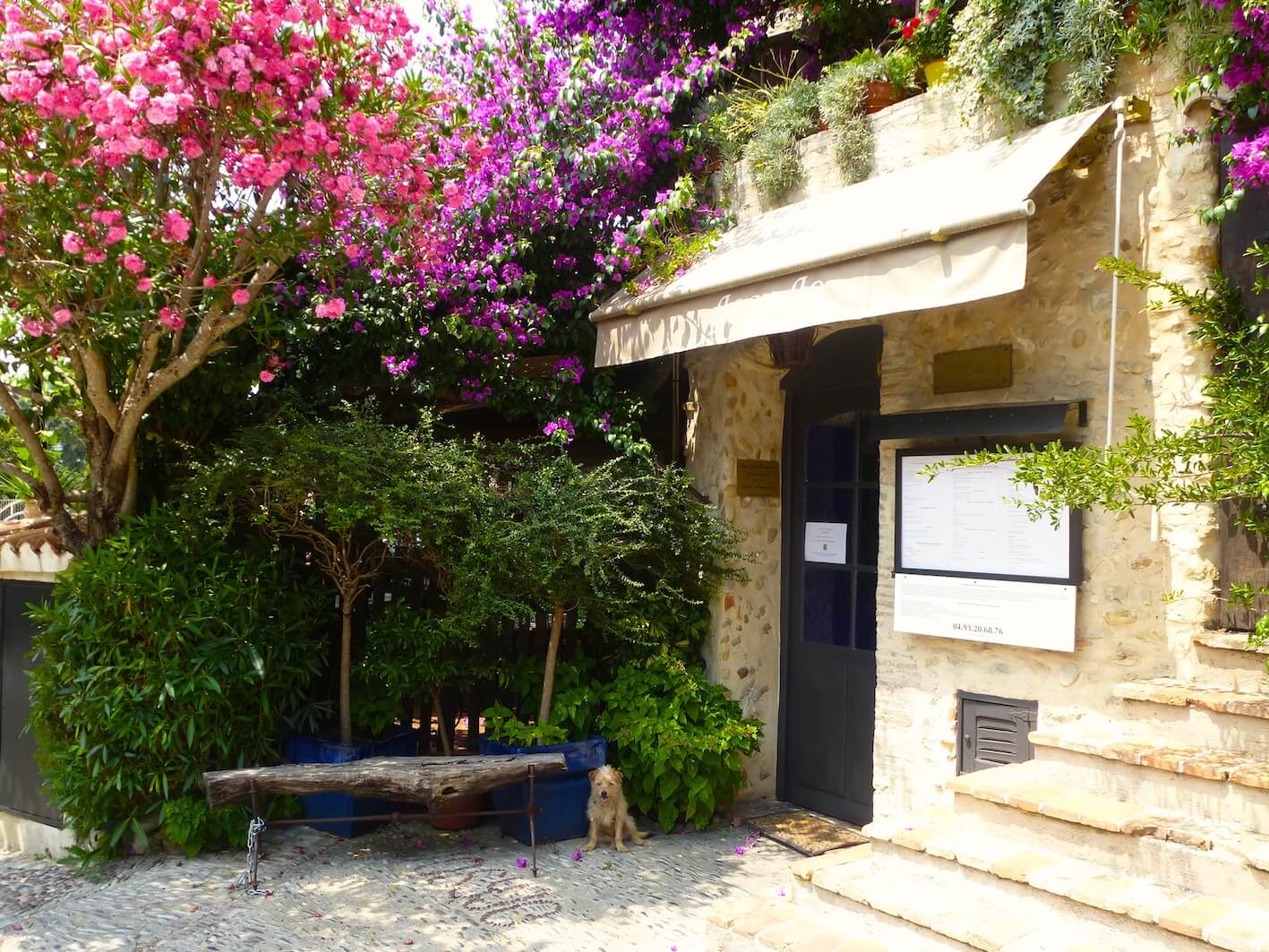 Renowned chargrilled meat and Provence cuisine restaurant for more than 40 years – new owners, similar style – indoor and outdoor dining, dress code.
2 rue du Planastel
04 93 20 68 76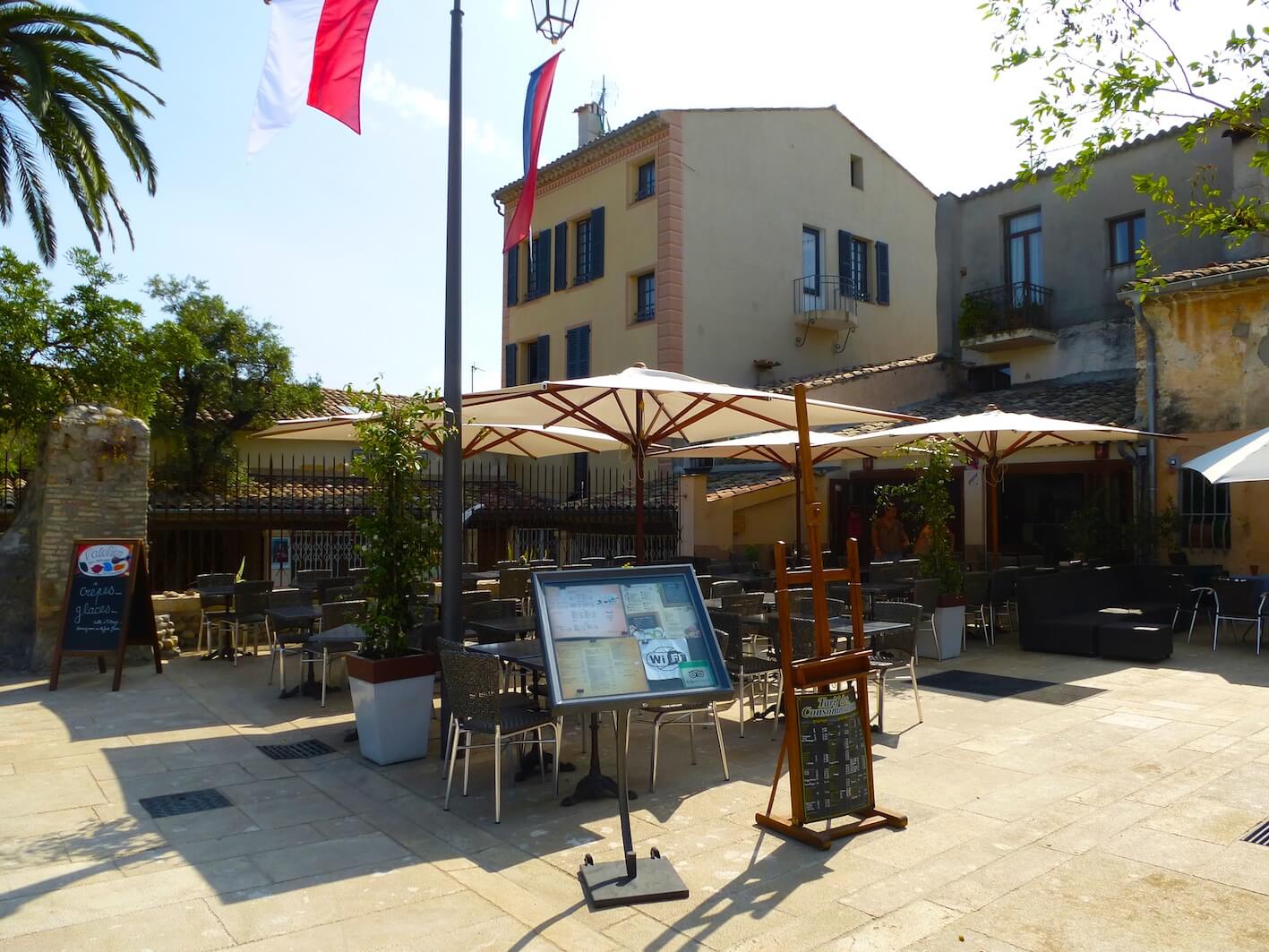 Situated at far corner of the main castle square – primarily a bar with food available – pizzas, salads, etc.  They have an indoor television for those interested in sports and they also do cocktails and BBQs some nights.
12 Place du Chateau
04 92 02 00 00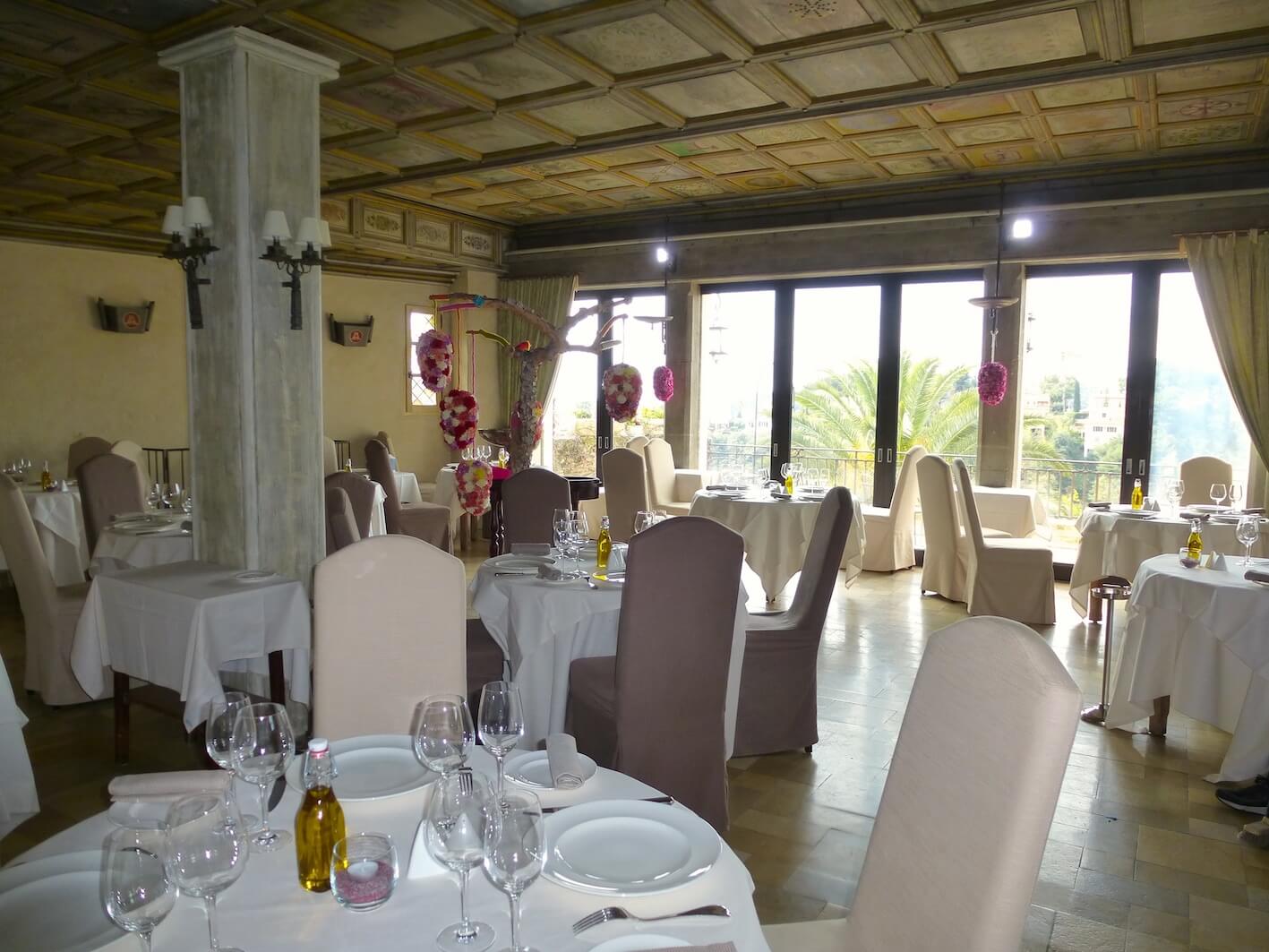 Gastronomic restaurant in very impressive hotel settings. Magnificent frescoed dining room with ceiling which slides open in the summer months, leaving you dining beneath the stars.
54 rue Sous Barri
04 93 20 73 21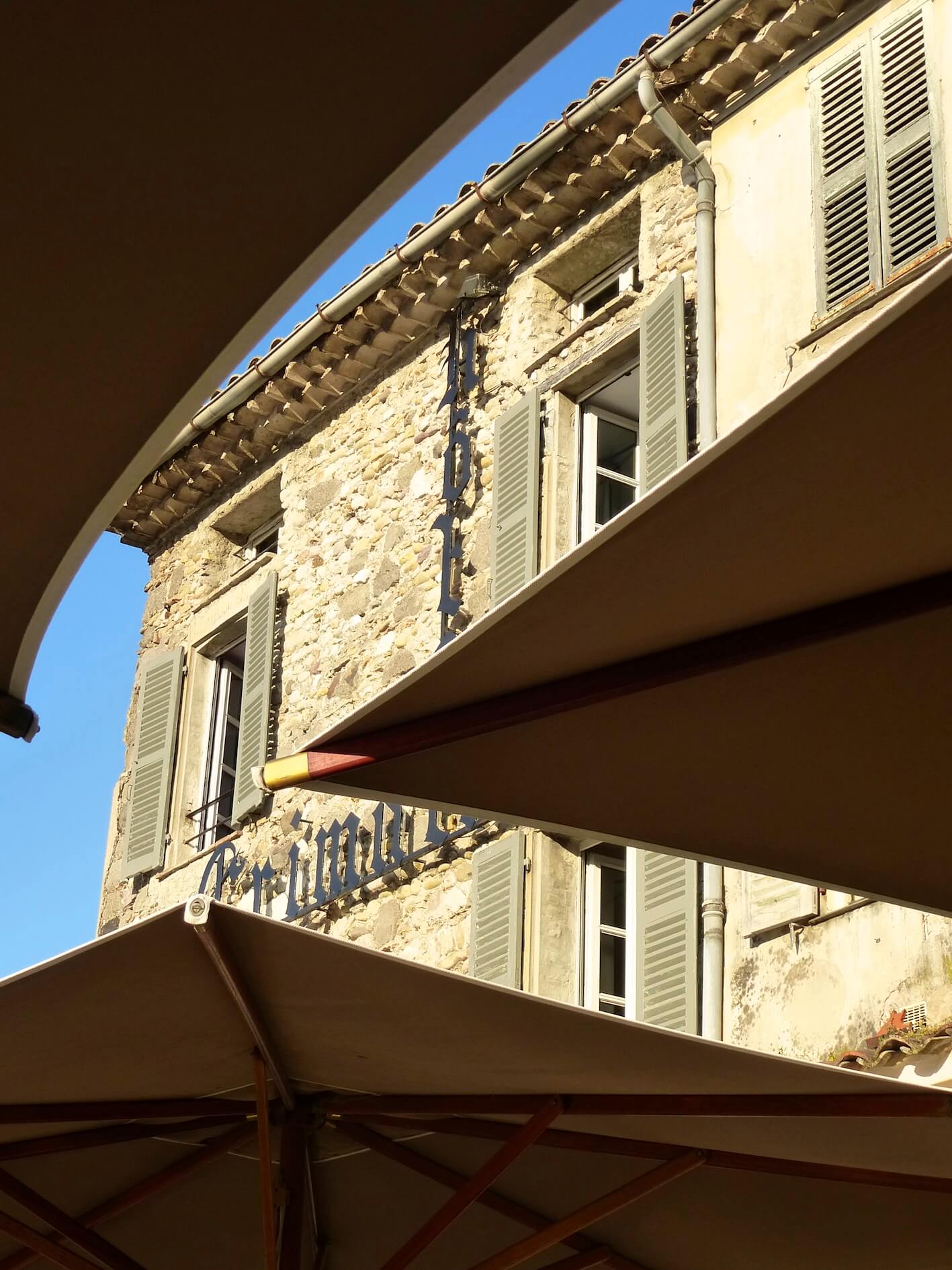 Situated on the main Place with indoor and outdoor dining, the Grimaldi (also a hotel), offers terrific food – well presented and at a fair price, friendly service, organic wines available.
6 Place du Chateau
04 93 08 67 12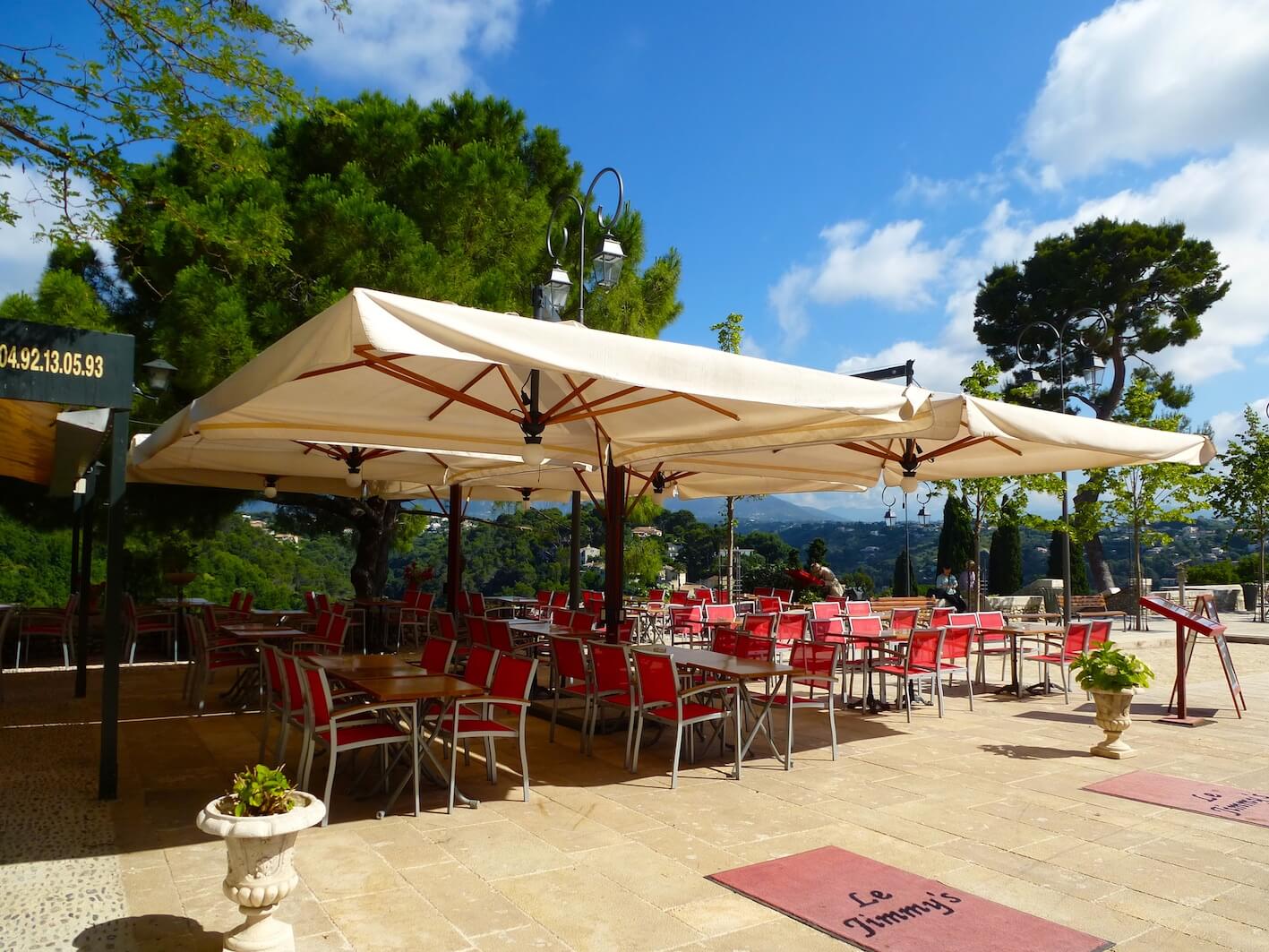 Also on the main Place, Jimmys enjoys a terrace with a view over the hills behind – bistro style food with pizzas, pasta, steaks, etc. Usually open 12h to 23h – closed Wednesday and winter months.
Place du Chateau
04 92 13 05 93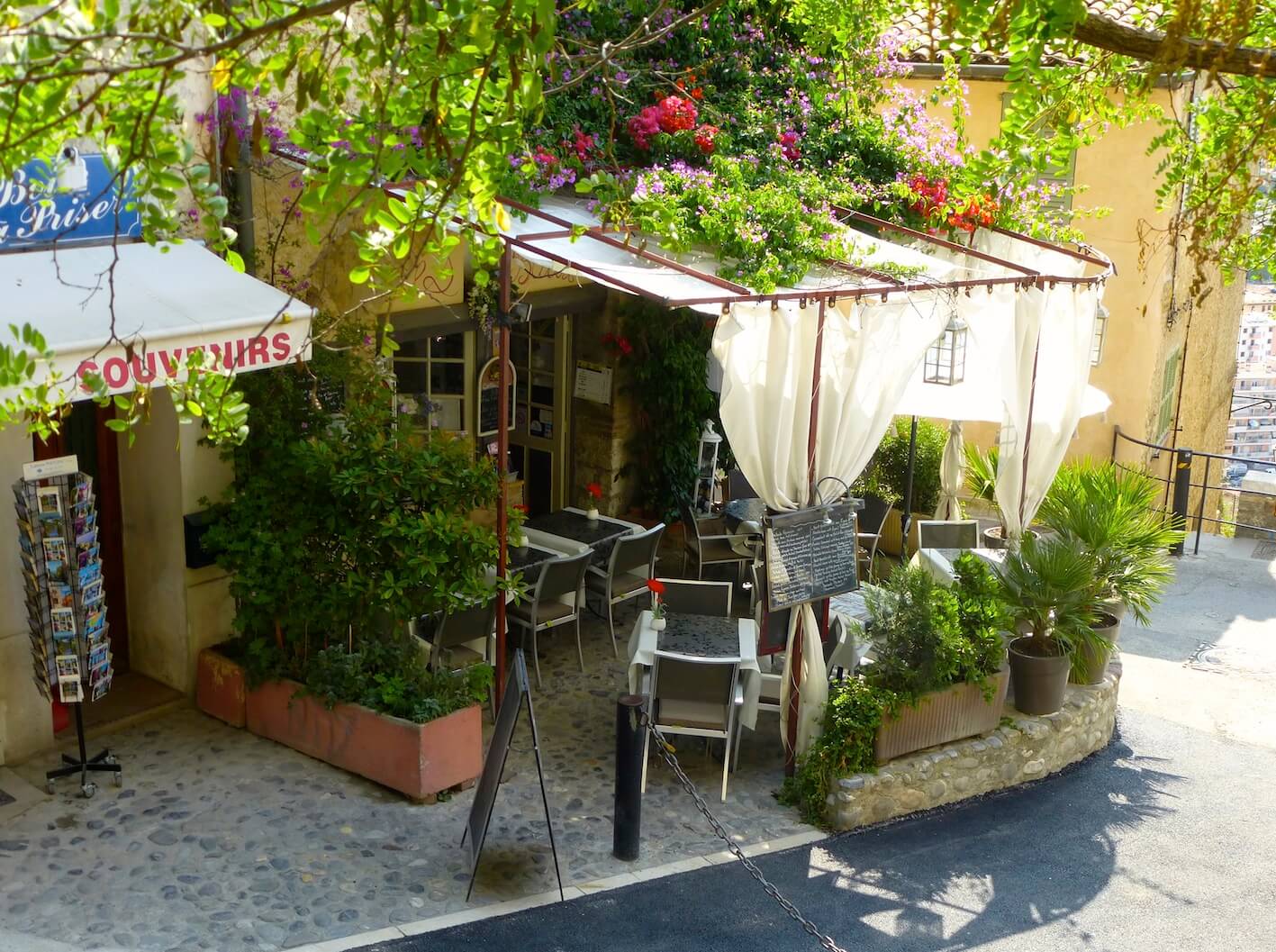 Pretty, little terrace restaurant located at the side of the Chateau, a real sun trap – friendly service,  mixed price range, bistro style – indoor dining also available. Usually closed Tuesday and Monday evenings.
2 Place du Chateau
04 93 73 14 00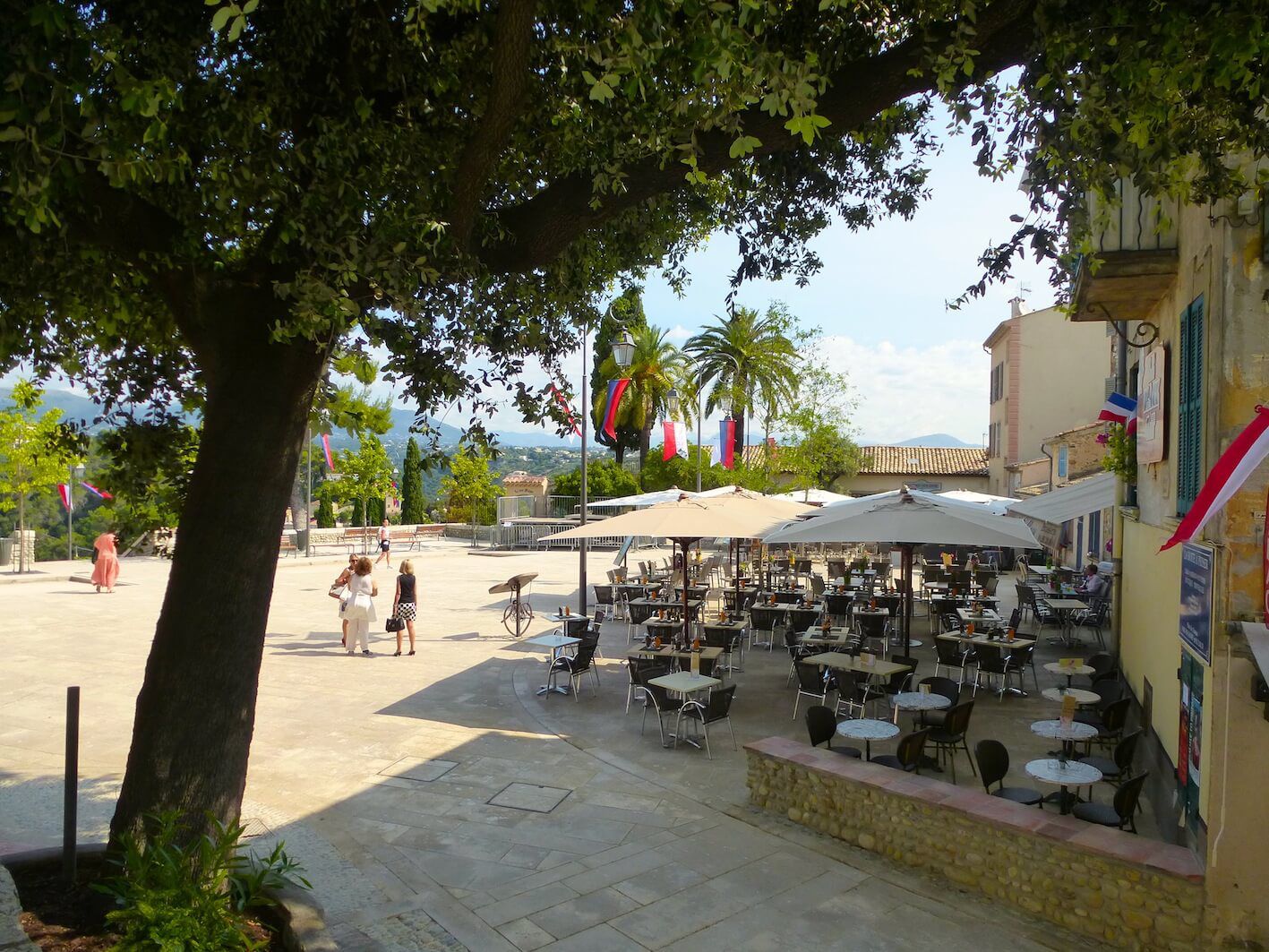 Small indoor restaurant but with large terrace on the main square – brasserie style – hamburgers popular but salads, noodles, etc. Great view for free jazz nights  – every Friday in July and August, book in advance!
4 Place du Chateau
04 93 20 08 86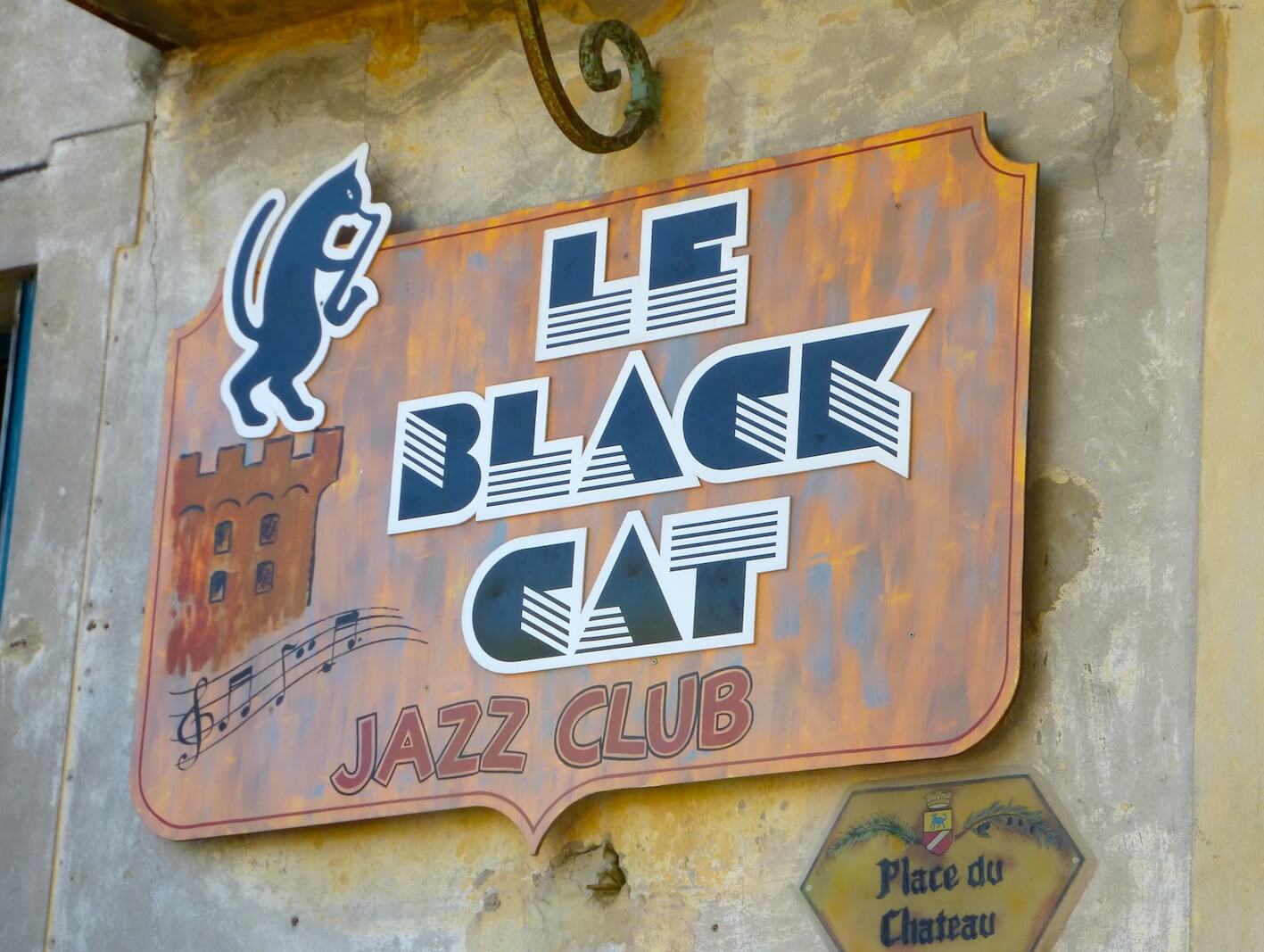 Village music and cocktail bar – hours change every season. Currently for private rental.
4 Place du Chateau
04 89 03 32 07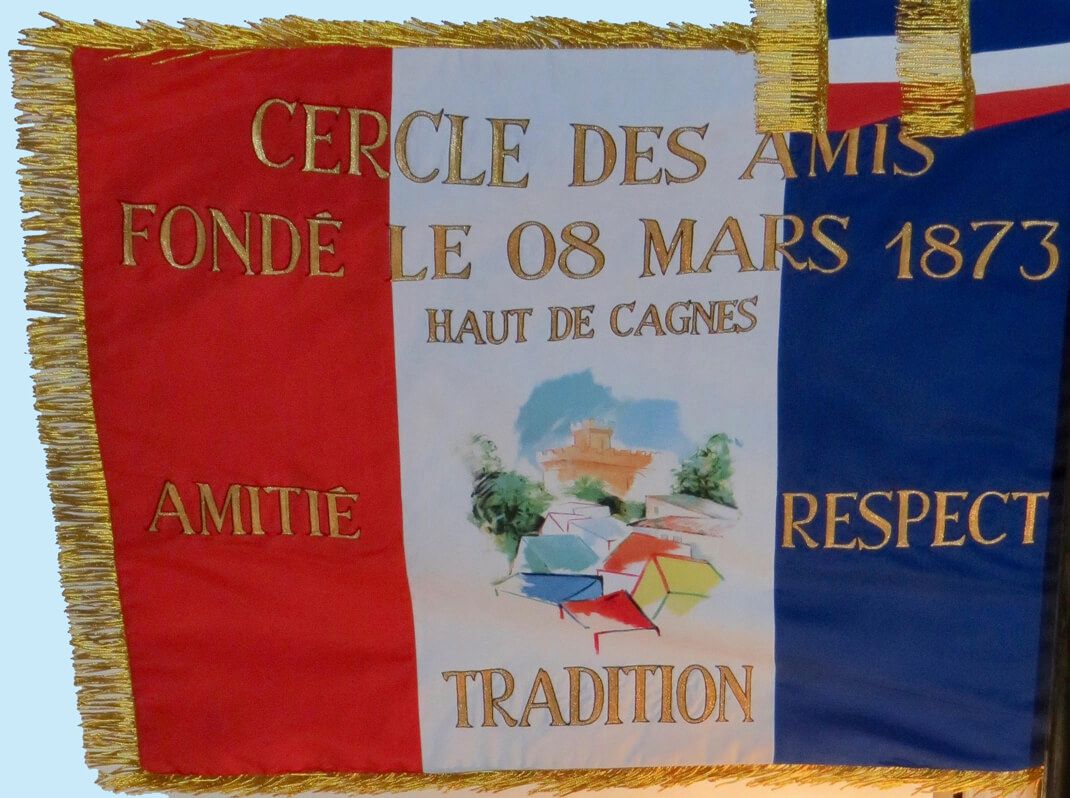 Real local bar – open during the week for a couple of hours from 18h daily – very cheap drinks!
86 montee de la Bourgade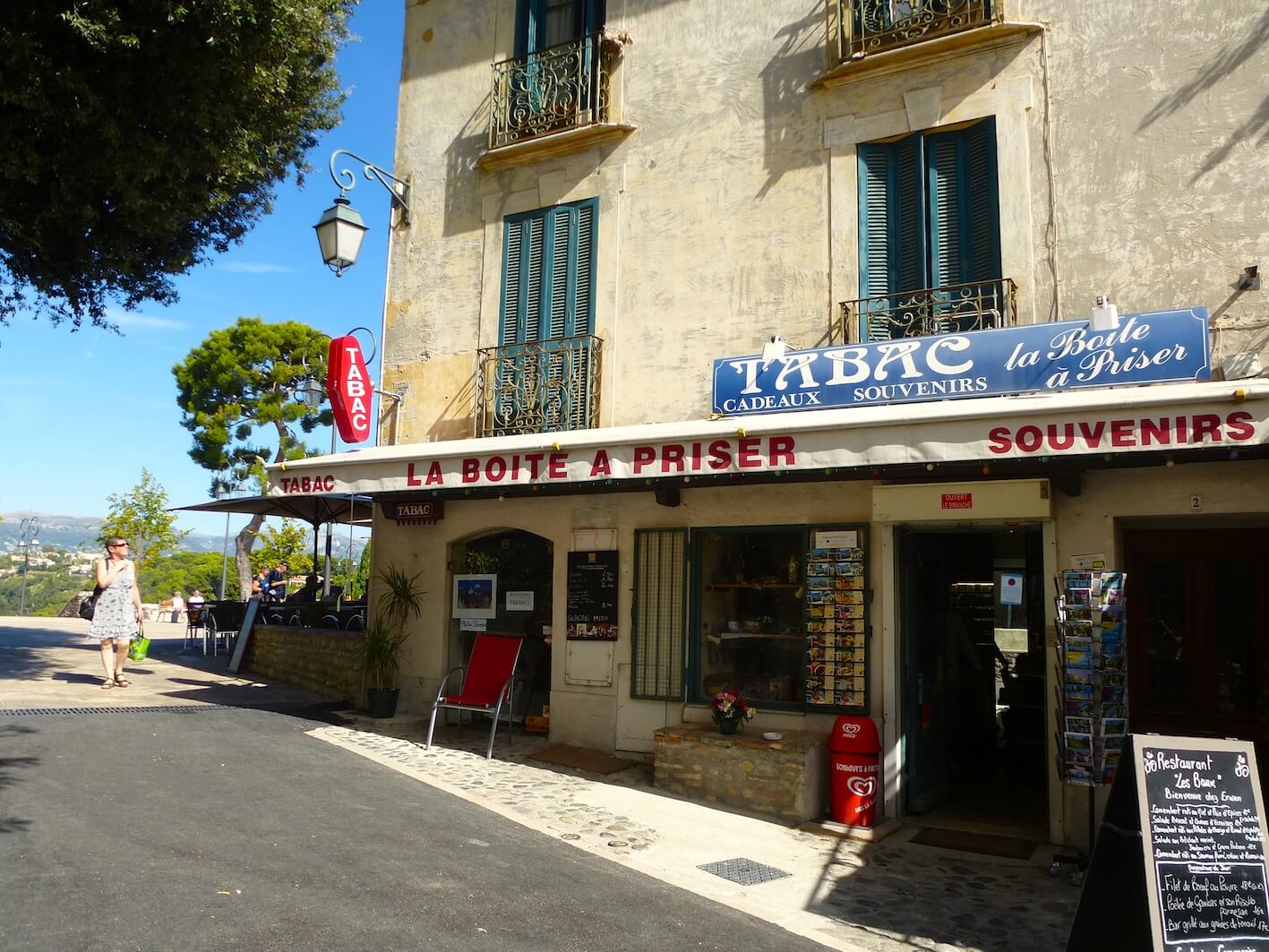 La Boite a Priser
– Cigarettes, ice creams, newspaper, postcards …the basics, plus croissant, bread, wine and you can even get a cup of coffee (French style)!